High Definition CNC Plasma
Hypertherm systems are the number 1 choice and most widely used method for the industrial cutting of steel, aluminium and stainless steel  plates.Thanks to Hypertherm technology and the ability to produce exceptionally high-quality edges, its unmatched speed & precision, and the relatively low investment and running costs.We pride ourselves our company on offering the widest range of sheet and plate metal machinery to suit all of your fabrication requirements. With years of experience and knowledge of the industry and an in-depth understanding of a wide range of applications, our sales team strive to recommend the most suitable CNC Plasma Cutting Machinery for your specific requirement.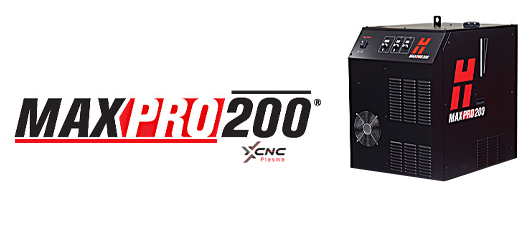 Hypertherm | Maxpro 200 – Longlife CNC Plasma
Designed to have a significantly longer life and significantly lower operational costs, these high-performance systems are the ideal solution for high-output environments.We use the Maxpro 200 with alot of our new and used cnc plasma cutting machines .Working with large capacities and supporting intensive use, Hypertherm LongLife Air and Oxygen plasma cutting systems are ideal for production environments cutting mild steel, stainless steel, and aluminium.
Exceptional Performance in Any Environment | HD CNC Plasma Systems – UK and Ireland
The Hypertherm MAXPRO200® LongLife® plasma cutting system is engineered for heavy-duty, high capacity automated and handheld cutting and gouging applications. The easy-to-use CNC Plasma system operates with either air or oxygen plasma gas, and combines fast cutting speeds and quick process changes to maximize productivity .
Knowledge Base – Jim Colt Hypertherm
Conventional-oxygen-based plasma systems evolved as well from the mechanized plasma cutting systems from the early 1960s. The early systems generally used nitrogen and carbon dioxide as the plasma and shield gases respectively and used liquid cooled torches to enhance consumable life. The early mechanized-plasma systems as produced up through the mid 1980s worked well and were very productive for cutting stainless steel and aluminum up through about 6 in. thicknesses. However steel cutting was limited to less than 0.625 in. and cut quality was poor.
The use of nitrogen as the plasma gas produced a very hard, nitride edge on carbon steels, and when thicknesses above 0.625 in. were cut, a heavy, re-welded dross (re-solidified steel) occurred often on the bottom edge. Further, the cut edge typically would have a four-to-six-degree taper, and there was a lot of top edge rounding on the cut. Still, plasma was a very interesting process in mechanized cutting applications due to its high speed productivity. A single-plasma torch cutting 0.5 in. steel could cut as many parts per shift as six oxy-acetylene torches.
Because of the productivity demands for mechanized plasma cutters, a few of the manufacturers worked hard to develop new systems and produce improvements in cut quality, consumable life, cut speeds and thickness capacity. The real drive was to further increase thickness and cut quality on steel, since steel made up over 95 percent of the metals used in the fabrication industry.
Around 1982, Hypertherm developed and introduced the first commercially successful oxygen-plasma cutting system. By using oxygen as the plasma gas and water injection to help constrict the arc (increasing energy density), steel up to 1 in. thick could be cut with clean, dross-free edges, no top edge rounding and minimal edge taper. Furthermore, cut speeds were increased while cutting power (amperage) was decreased, resulting in lower utility cost, less noise and ultraviolet glare on the shop floor. There was a drawback however. Consumable life decreased due to the use of oxygen as the plasma gas and its effect in the high temperature plasma-torch environment.
A few years later (early 1990s) another development in the engineering labs produced newer technology that dramatically improved consumable life when cutting with oxygen. In fact, consumable life was increased five to six times, which further reduced the cost of oxygen-plasma cutting.